Thoughtful Gifts That Won't Break the Bank
The holiday season has arrived, and it's time to spread cheer with thoughtful gifts that won't break the bank. We've chosen a list of fantastic presents under £20, £50, and £60, whether you're buying for a special occasion or just want to show appreciation. Let's explore the world of inexpensive yet meaningful gifts for the remarkable peoples in your life.
The Budget-Friendly (Gifts Under £20)
1. Marble ring holder is a perfect, versatile Christmas gift for your couple friends or single ones. The item can be used as an engagement ring holder or simply to store small jewelry, keeping them organized. We all know someone who has a bunch of jewelry, and the ring holder alone probably won't be enough. Consider adding 2. a mini marble circular tray with subtle detailing or a personal touch. It provides a lovely and handy place for a gift for her or him. The third suggestion is 3. a coaster set, a timeless gift made from sustainable materials. People have been using rattan coasters since the 80s, and they are still on trend. Now is the perfect time to replace plastic coasters and give a long-lasting, memorable gift to your special person
4. A rattan fruit bowl can bring a touch of nature into our home. Its natural, earthy appearance provides warmth to the kitchen and makes it a lovely present. 5. a toilet tissue holder that would complement bathroom decor. Its clean lines and natural texture make it an attractive and functional addition to any home. The last is 6. a rattan serving tray—a gift that combines design and function. Whether used to serve breakfast in bed or or used as a display tray for treasured objects on a coffee table, it adds a touch of elegance to any setting.
Premium Picks (Gifts Under £60)
7. With a jute pouffe cushion, you can create a pleasant nook in the living room. Its boho appeal and versatility make it an excellent choice as a gift for any room. 8. a mini stool display stand that is both decorative and useful. It can function as a side table, a small plant stand, or simply as a decorative addition in any area. Last is 9. large rattan plant pots. This lovely addition gives a touch of boho sophistication to the living area and is ideal for displaying favorite plants.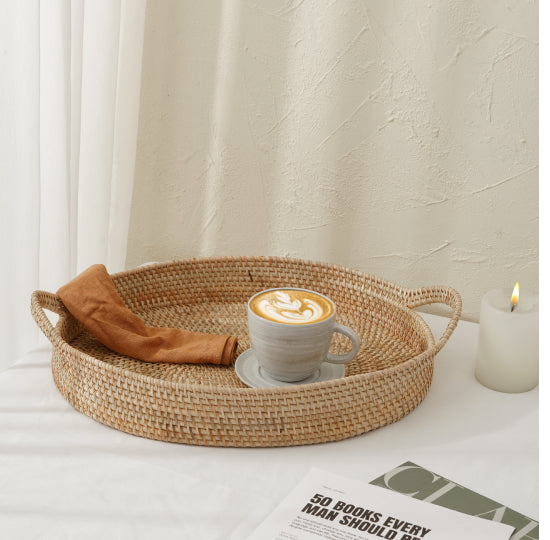 Looking for more inspiration for your home?
Be sure to sign up for our email newsletter. We'll be glad you did!